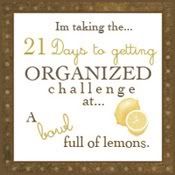 I'm so excited about this new challenge I am starting with Toni at A Bowl Full of Lemons on January 1st. If you know me in Real Life and as you will see if you keep reading my blog is that I LOVE organizing. I know I'm a dork but I could spend hours in The Container Store and never get tired. So I was excited to find this great challenge to jump start 2011!
Copied from Toni's Blog:
Starting on January 1st and lasting 21 days (except on Sundays)... Every morning I will post a daily challenge for you to do. You will then have until the next day to complete the challenge (or longer if you need), and then check back here and link up your post to my blog for everyone to see (lots of pictures are a plus). Thats it! Simple eh? I promise they will be easy challenges. It's only 3 weeks... you can do it! You will be so happy you did.
The REAL challenge is getting
you all
on the road to ORGANIZATION.
Sounds fun and promising huh? Wanna do it too? Well then hop over to A Bowl Full of Lemons and Sign up!